B4Q Management Ltd.(B4Q) is Accredited with IAS with Accreditation number MSCB-236 for Management System Certifications.
About IAS:

IAS stands for International Accreditation Services. As one of the leading accreditation bodies in the United States of America. IAS is a signatory to the four primary international organisations that form a unified system for evaluating and recognising competent accreditation bodies worldwide.

IAS is a nonprofit, public-benefit corporation that has been providing accreditation services since 1975. It accredits a wide range of companies and organizations including governmental entities, commercial businesses, and professional associations. IAS accreditation programs are based on recognized national and international standards that ensure domestic and/or global acceptance of its accreditation

B4Q Management Ltd. (B4Q) is accredited with USA Accreditation (IAS) for the following Standards/Schemes:

1. QMS: ISO 9001:2015 (Quality Management Systems).
2. ISMS: ISO 27001:2013 (Information Security Management Systems).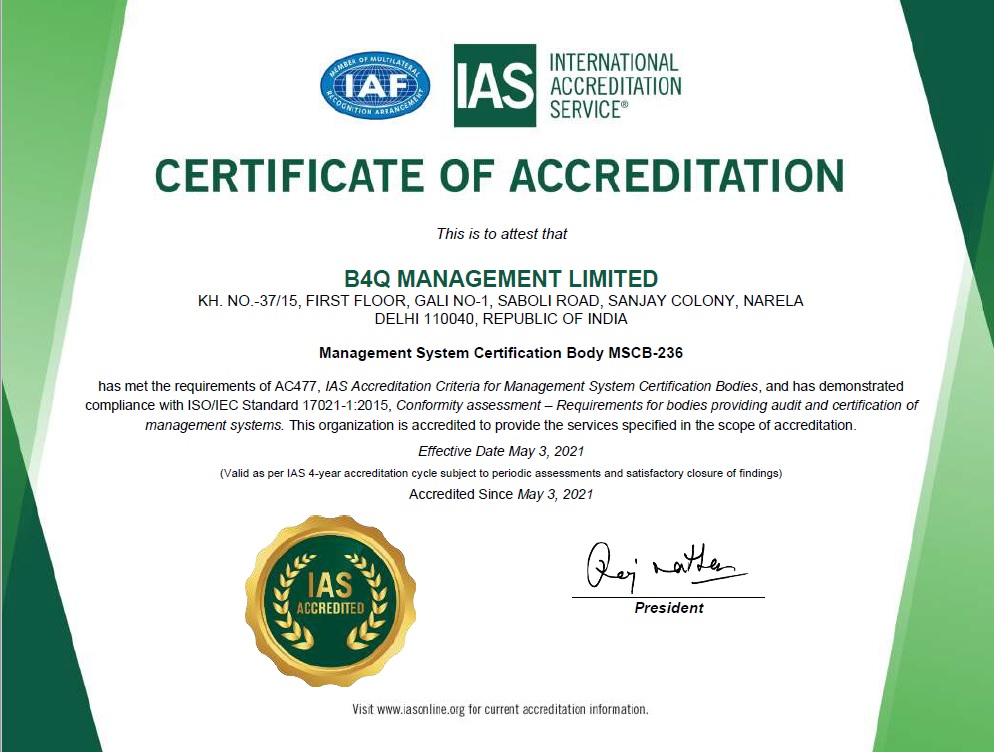 About Exemplar Global:
We are Exemplar Global (RABQSA) certified training provider for Lead Auditor Training/Internal Auditor Training. Exemplar Global Inc. provides personnel certification for individuals seeking professional recognition and independent certification for training providers to enhance their course quality and outcomes.
Exemplar Global is a not-for-profit organization incorporated in the USA with offices in Australia and South Korea.